Welcome on board the MS Carissima!
On board our comfortable cruise ship you enjoy an exclusive atmosphere – in the spacious, convenient cabins as well as in the stylish outdoor area. Experience the fantastic view to breathtaking landscapes – on the bike, from the pool on the sun deck, in the comfy seats of the lounge, and even during your amazing meals in the first class restaurant.
This exciting bike trip will make your holiday unforgettable. A warm and charming crew is waiting for you to make your stay on board as comfortable as possible.
---
Ship information
| | | |
| --- | --- | --- |
| Capacity |   | 150 passangers |
| Length |   | 110 m |
| Breadth |   | 11,4 m |
| Draft |   | 1,6 m |
| Speed |   | 21 km/h |
| Crew |   | approx. 35 |
| Electricity |   | 220 Volt |
| Language on board |   | German / English |
---
Cabin information
Standard, Comfort or Luxury ? On the MV Carissima YOU have the choice
All 75 de-luxe staterooms have 14 m² and feature a hotel-style double bed, which may be converted to two single beds. The half-height windows on the Main deck cannot be opened, the staterooms on the Upper and Middle deck provide full-size picture windows which do open. All cabins are equipped with a private bathroom with a shower, hair dryer, TV, safe and full air-conditioning.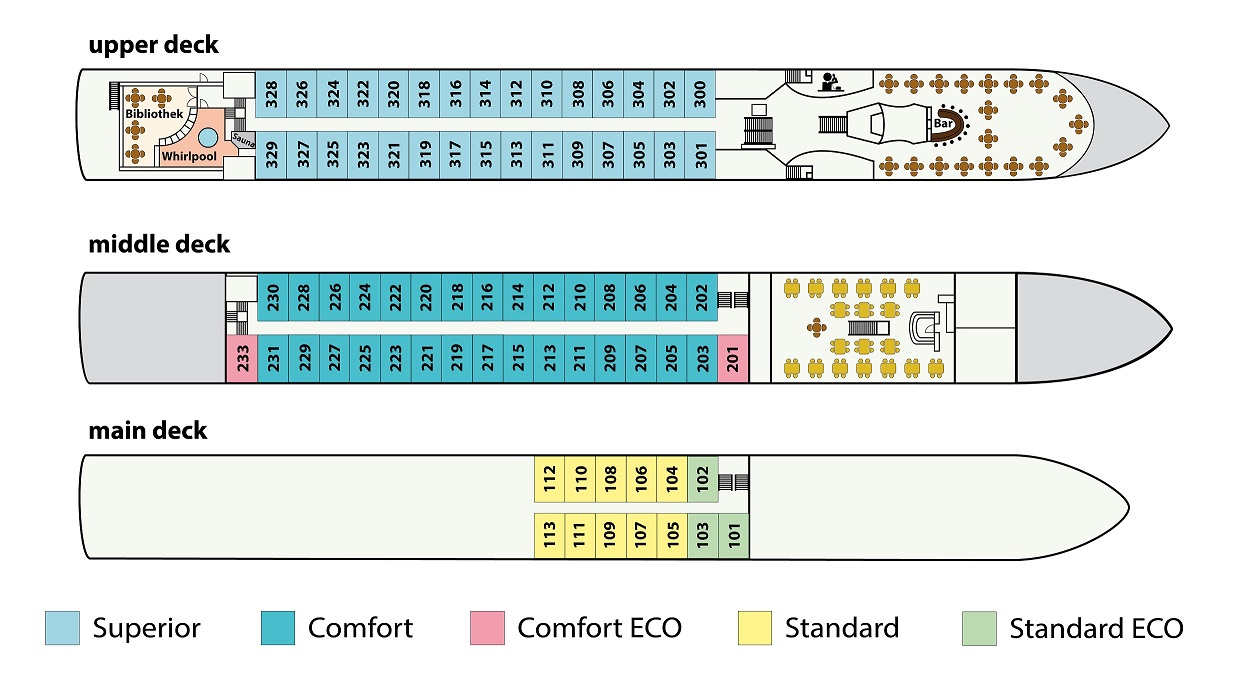 >> cabins - check availability
 

Standard cabin:
The 14 m² standard cabins are located on the main deck and feature half-height windows which CAN´T be opened and twin beds that can be separated or pushed together. ECO cabins are located in the front/rear part of the ship, where engine noise is possible.

 

Comfort Cabin:
The 14 m² standard cabins are located on the middle deck and feature full-size picture windows and twin beds that can be separated or pushed together. ECO Cabins are located in the front/rear part of the ship, where engine noise is possible.
 

 

Superior Cabin:
The 14 m² standard cabins are located on the upper deck and feature full-size picture windows and twin beds that can be separated or pushed together.
---
3 Passenger - decks
Main deck (lower deck, half-height windows cannot be opened):
Cabins Standard
Cabins Standard ECO (Operating-/generatornoise)
Middle deck (full-size picture windows to open):
Cabins Komfort
Cabins Komfort ECO (Operating-/generatornoise)
Upper deck (full-size picture windows to open):
Cabins Superior
---
Boardequipment
Panorama restaurant
Panorama-Lounge with bar
Spa area with sauna and whirlpool
Sun deck with top, pool (June-August), chairs and tables
Library
Board-shop
WIFI (surcharge)
The first you´ll experience when boarding is the inviting atmosphere and the coziness of this river ship. In the restaurant you will experience a true culinary excursion through the Danube countries – the fantastic view of the beautiful scenery will sweeten the diversity of flavours you are tasting. In the Panorama-Lounge, where the bar is located, you can enjoy a glass of wine with your new friends and travel mates while the gorgeous landscape is passing by. Comfortable lounge chairs and discreet colors make you stay a little longer…
After an exciting day of cycling you can relax in the spa with sauna and whirlpool. For pleasant refreshment, jump into the pool (June through August) on the sun deck, from where you can enjoy a magnificent view. And if you are in the mood for reading, just borrow a book in the library! The comfortable ship will make your journey unforgettable. Wifi is available on board (payable on spot, connection can vary).
---
Restaurant / Catering /Kitchen
In the convivial panoramic restaurant, all guests will eat together at the same time. We provide daily fresh prepared international and national specialties from the cuisine of the countries along the route.
If you are traveling with friends, please mention this when booking. Gladly an internal note is deposited to get a common table in the restaurant. Please note that it is not always possible for several people to accommodate all at one table as there is limited space in the restaurant and not all table sizes are available.
The full board consists of: breakfast, packed lunch for bikers (resp. light meal for guests on board), dinner with menue-choice, coffee-/tea break with sweets in the afternoon. 
Your table number will be provided during boarding.
---
Diet requirements
Vegetarian, vegan, gluten-free, lacto-free etc is no problem. Special meals have to be ordered latest by 3 weeks prior departure.
Please be informed that due to the limited shopping possibilities of the constantly changing ports, not all diets can be offered.
In individual cases and by appointment, you are also welcome to bring along your own food for your special meal.
---
Board- und Excursionprogram
A musician will provide evening entertainment. One day the crew invites you to an evening of entertainment, good mood and fun!
With your travel documents you will be informed about all possible excursions offered. Please also use the information event on board.
Excursions can only be booked on board with our cruise director.
---
Laundry Service
Put your clothes-to-wash in the plastic bag that you find in your cabin. After the next cabin service the housekeeping staff will take your clothes to the laundry and bring it back the day after. Further information and prices at the reception directly on board.
Excerpt from the price list: shorts € 3,-, pullover € 3,50,-, T-Shirt € 3,-, socks € 1,-
---
Drinking water / Beverages
The water on board is drinkable. It is stored in a special tank for drinking water, is treated chemically and regularly checked by the authorities. Of course you are welcome to purchase mineral water in the bar or restaurant (prices according to list).
Different drinking packages will be offered which are only bookable directly on board.
Drink prices without drinking package: softdrinks € 2,75, beer from € 2,90, coffee € 2,50, Gin/Vodka € 2,75, wine from €3,95/glass, Digestiv/Likör from €4,00, Cocktails € 8,50. subject to changes.
Please be informed that it´s forbidden do bring self-bought drinks on board and consume them in public areas. Consumption only permitted in the cabin.
---
Internet / Mobile phone
There is the possibility to connect to the Internet via WLAN / WIFI on board. Please take note that depending on the route, there may be restrictions on the connection from the on-board network to the Internet.
The first 100MB are free of charge, after that you can buy more data if needed. The access code and prices are available at the reception.
If you want to be reachable on board in urgent cases, please leave our office number at your family. We will forward you the message as soon as possible.
---
Life on board
There is no special dress code on board. Casual clothing is sufficient. For the concert and the gala dinner some passengers are dressed more elegant. We suggest appropriate clothing for the bike-tours as e.g. cycling pants, bike-gloves, sportive shoes, etc…sun- and rain protection – please don't forget! A warm sweater for rather cool evenings on deck. Swim wear for using the opportunity on hot days along your bike-leg.
Our guests are very international from all countries all over the world.
---
Sundeck
Sometimes it is necessary - depending on the water level s- to leave the sundeck when passing low bridges for safety reasons. Please pay attention to the announcements of the crew .
---
Shore
You can leave the ship immediately after docking. We kindly ask you to be back on board at least 30 minutes before the scheduled departure time.
The times of residence can change at short notice, please pay attention to announcements and hints in the daily program. Please make sure that you pick up your landing card at the reception in the harbors before leaving the ship and return them when you return aboard. The shore maps are used by the ship's command to check that all guests are back on board.
---
Medical care
For emergency cases doctors are also shortly available ashore.
---
Pets
It´s not allowed to bring pets on board.
---
Smoking on board
Please note that the whole ship (incl. cabins, restaurant, café) is absolutely a non smoking area. Smoking is allowed only on the open sundeck.
---
Tipping
For anyone who has taken a mainstream cruise before, the subject of tipping is a common one; after all, the wonderful service you're treated to for an entire week an equally suitable reward.
Towards the end of the cruise you will find an envelope in your cabin . This will allow you to place cash into the unmarked envelope. The cash needs to be Euros. You can then place it in a box near reception.  This form of giving a tip is useful to credit all crew-members.
A noncommittal directive would be approx. € 7,- to 9,- per person and day.
The cruise director is not included in this system. If you have been satisfied with his work during the week – there will be also a tip box available directly at the cruise director's desk.
---
Currency/ Payment
All prices are in EURO. With each order you receive a receipt to sign.
The invoice can be paid in cash or with credit card (VISA or Master Card) on the day of departure at the reception.
Excursions  have to be paid directly at the cruise director (credit card accepted).